The Final Conference on "Globalisation of Innovation" has been organised by Fondazione Eni Enrico Mattei (FEEM) and held on 9th December 2011 at the European Commission,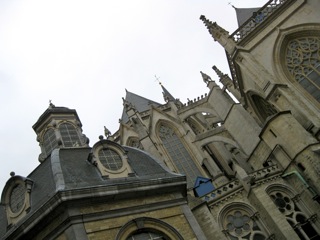 DG Research and Innovation.

Innovation is a key component of success for all world regions and works as a central platform through which government actions and businesses efforts can interact. We are witnessing a surge in knowledge-intensive activities by firms in catch-up economies, which are altering the geography of ideas and their commercialisation across the globe. This clearly has implications for the EU in terms of international competition and growth strategy.In three years of activities, the EU research project INGINEUS has mapped the new geography of knowledge-intensive activities and has put an initiative in understanding the concept of Global Innovation Networks (GINs).
The Final Conference shed light on:
Threats and opportunities from the rapid growth of newly emerging economies

Policy options to attract knowledge and to stimulate creation of GINs with latecomer economies

The role of institutional frameworks in the EU and emerging economies

How EU firms can tap into external knowledge sources
The Conference has also been an opportunity to discuss the results of the project with the EU, stakeholders and a selected audience from the S&T community. It also aimed at exploring possible new collaborations in the field of Global Innovation Networks.
Presentations:
Welcome and introduction
Domenico Rossetti di Valdalbero (EC)
...read more

Alireza Naghavi (FEEM & U. of Bologna): "EU research on innovation: present activities and horizon 2020 perspectives"

...read more
Global innovation networks and innovation policy
Susana Borrás (CBS): "Global innovation networks: foresight and policy implications"
...read more
The INGINEUS survey
Helena Barnard (GIBS): "Global innovation networks: what are they and where can we find them? Conceptual and empirical issues"

...read more
External discussant on survey
Björn Jindra (IWH): "Is there a need for novel data on firms' internationalisation and the globalisation of innovation?"
...read more
Prospective implications of offshored knowledge-based activities: outlook for industries in the EU
Heidi Wiig Aslesen (NIFU STEP): "GIN patterns in selected sectors"
...read more
Changing roles of sub-national regions in the evolution of GINs
Cristina Chaminade (ULUND): "Do regions make a difference? Exploring the role of regional innovation systems and institutions in global innovation networks"
...read more
Strategies of R&D offshoring and its long-run impact on European firms
Vandana Ujjual (UoS): "International R&D Strategies of EU MNEs and Integration into GINs"
...read more

Davide Castellani (LdA): "The effects of international R&D on innovation and performance in the EU"

...read more
External discussant on case studies
Lukasz Grzybowski (FEEM & U. of Cape Town): "R&D offshoring strategies and performance of firms: summary of evidence"
...read more
The perspective of the South: the role of competence building and institutional frameworks in the emergence of GINs
Glenda Kruss (HSRC): "The relationship between capability building and the evolution of GINs"

...read more

Gustavo Britto (CEDEPLAR-UFMG): "Firm ownership and university-industry linkages in Brazil and South Africa"

...read more
Concluding remarks
Programme:
- [
download
]
List of participants:
- [
download
]